Informations
Apple Music 12 month subscription CANADA Key
1 - Apple Music: what is it?
Apple Music is an audio streaming service that consists of five sub-services. It takes the form of an update to the application "Music" of iOS. This one will integrate 5 new features, each with a specificity:
For You is intended to be a selection of albums, songs or playlists specific to individual tastes. Apple insists that these recommendations are not the sole result of an algorithm, but that humans are involved in the process. At the first launch, a screen asks the user to designate several artists he or she likes in order to refine his or her profile.
New displays the latest arrivals on the iTunes Store, regardless of the user's preferences.
Radio allows you to connect to the other feature of Apple Music: Beats 1. Apple is banking on a real radio station rather than just playlists, with specific programs broadcast 24/7 around the world from three major cities: London, Los Angeles and New York.
Connect is nothing less than the reincarnation of Ping. It is a social network that is supposed to bring artists closer to their fans. The former can post photos, videos or simply give news. Since Ping, launched in 2010, was one of the biggest flops in terms of social networks, it is difficult to see more future to this redesign five years later.
My MusicFinally, it allows you to find your music stored on the device thanks to the synchronization with iTunes, as in previous versions of iOS.
2 - What is the Apple Music catalog?
On paper, Apple Music subscribers will have access to theiTunes Store. However, the first feedback seems to indicate that some exceptions remain. This is consistent with Apple's communication, which speaks of a catalog of over 30 million titles for Apple Musicwhere the iTunes Store has 37 million. The figure is comparable to Spotify or Google Play Musicwhich also reached 30 million songs.
3 - High definition ? AAC? What will be the audio quality of Music?
Unlike some services, such as Qobuz or more recently TidalApple is keeping the same format as in the iTunes Store, which relies on "high definition" files: AAC 256 kbit/s. In contrast, Google Play Music uses MP3 320 kbit/s and Spotify from OGG 320 kbit/s. In fact, AAC tends to offer higher compression and lower quality loss than MP3. More importantly, the music will be able to be listened to offline, just like the competition.
4 - Who can use Apple Music?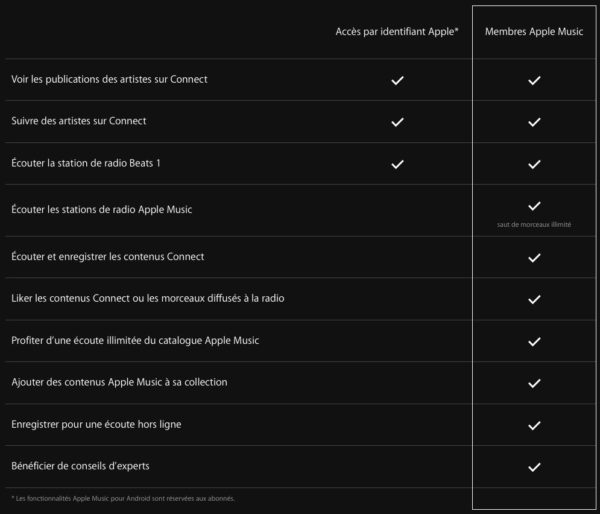 Apple Music is launched for the general public from June 30th in 100 countries, including France. For users ofiOSThis will require an update of the software "Music". Then, and this is great news coming from Apple, an application Android will be available in autumn, a first for the apple brand. Otherwise, an application is also planned for Windows. Reserved for Apple users at first, the service will be open to all within a few months.